By: Ed Leiser '04
At the conclusion of the 2017-18 school year, St. Rita held its inaugural "minimester week" for students in the freshmen, sophomore, and junior classes. The new minimester program is a required 30-hour course incorporated into the academic calendar of the school and is designed to teach students outside the classroom. The philosophy of minimester is that students sometimes learn by touching, seeing, and doing things outside the traditional classroom setting. By selecting their own high-interest experience, unique life lessons could be learned by our Ritamen.
Some minimesters occurred during the school year (Thanksgiving, Christmas, Easter breaks, etc.) or over the weekends during the year, but "minimester week" removed the last week of classes for all students, to allow faculty to chaperone trips and make the necessary accommodations. Students who already had their minimester were not required to go to school during the week of May 29 – June 1 (they were NOT complaining about that!)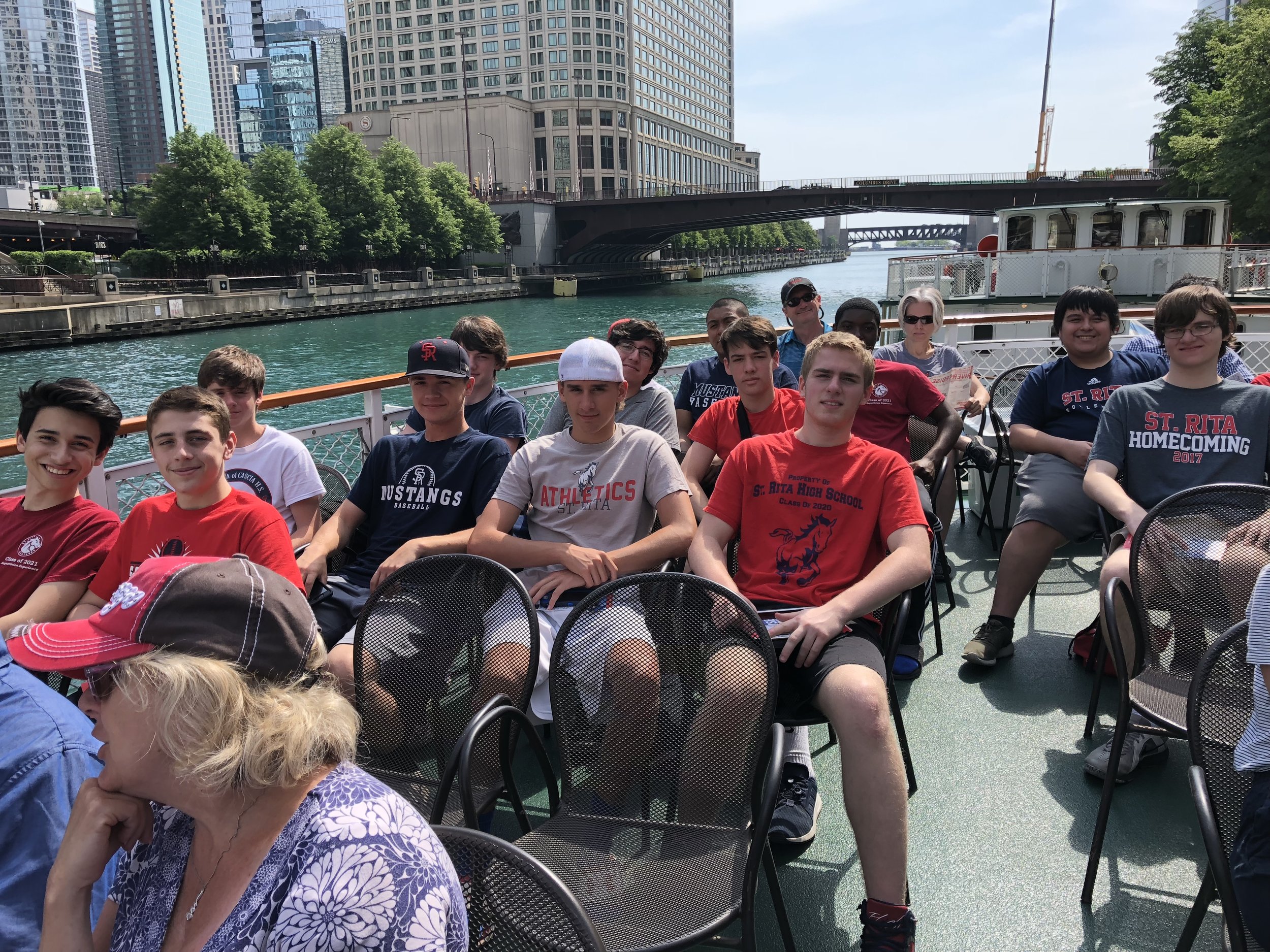 Several minimesters took place in Chicago or nearby areas, while others featured travel to various parts of the United States. There was even one minimester trip that went to France and Italy for touring and site-seeing, as well as learning about culture, art and much more. Some minimesters required no cost to enroll in, while others required a small fee to be paid by parents. The larger trips that required travel cost a little bit more, but all costs were kept as low as possible by the St. Rita administration to ensure as many students could attend as were interested.
See below for some of the highlights of the minimester week trips and outings that were done by St. Rita freshmen, sophomores and juniors and their dedicated faculty and staff chaperones. By all accounts, minimester was a success this school year!
Austin, Texas
Forty Ritamen and four chaperones flew to Texas for a week and represented well in the Lonestar State. Students had Mass at the San Fernando Cathedral and took a trip to the Enchanted Springs Ranch for line-dancing and to see actual longhorns in person. They also had an on-field tour of Darrell K. Royal Texas Memorial Stadium, the home of the University of Texas football team. The Ritamen also visted St. Edward's University, the alma mater of Theology teacher, Brother Joe Ruiz, O.S.A. The trip was made complete with a day visit to San Antonio for a cruise on the Riverwalk, a trip to the San Antonio missions, and of course, they remembered to visit The Alamo!
Water Water Everywhere!
This minimester focused on, you guessed it, water in the Midwest and how we use it. Students and faculty experienced the water by kayaking on the Chicago River, and travelling to Wisconsin for a boat cruise to learn about water depth, shipwrecks and they learned how to operate a sailboat, too. Luckily, no one fell in the water from what we gathered! St. Rita students learned about our countries' sometimes careless use of water and how we can properly conserve it as well, throughout their week on the water.
Colorado
Nearly 40 students and adult chaperones boarded a plane and headed west to visit Colorado on a three-day minimester trip. The students enjoyed all that Colorado has to offer, visiting the United States Olympic Training Center in Colorado Springs for a day-long tour of the facility, a definite highlight of the trip. Students also spent time hiking and doing outdoors activities, while squeezing in a trip to Coors Field in Denver for a Colorado Rockies game, too! They also started off their Sunday the right way, with Mass at the Cathedral Basilica of the Immaculate Conception.
Washington D.C.
Approximately 40 Ritamen visited our nations' capitol for an unforgettable experience to learn about our great nations' history. Upon arrival, the trip visited the Lincoln Memorial and spent Sunday morning at Mass at the National Basilica underneath the Holy Trinity Dome. As the week continued, the minimester visited Arlington National Cemetery, The White House, and the Capitol Building. Ritamen spent Memorial Day at the parade, and visited the Archives, Portrait Gallery, the Newseum and the Martin Luther King Jr. Memorial. Upon visiting the Vietnam Veteran's Memorial, students and faculty were able to identify St. Rita graduates who lost their lives in the Vietnam War, a very moving experience for all. Somehow, the minimester group managed to fit in a baseball game at Camden Yards to see the Baltimore Orioles play, too. The trip ended on a high note before the long bus drive back to Chicago, with a visit to the Washington Monument!
The Smoky Mountains
A group of 12 students and two teachers got their adventurous side out of them, and braved a trip to the Smoky Mountains of Tennessee and North Carolina. Ritamen spent a lot of time outdoors as you'd imagine, with various hiking trips and outings throughout the week. Students got a chance to do zip-lining and white water rafting, in between the hikes on the trails. The pictures looked amazing, and one Ritaman was heard to say "This feels like I'm in the Amazon!" For most of the students, they had certainly never experienced anything quite like mountain-life.
Chicago History and Architecture
Some students opted to "stay home" for minimester and sleep in their own beds, so the Chicago History minimester was just right for them. They lucked out with sunny days and temperatures in the 80s and 90s for their week-long visits to some of the famous sites of Chicago. Our students took a Chicago Crime Tour on a guided tour bus, visited the Chicago Theater downtown and spent time at Wrigley Field for a visit to the field, dugout, press boxes and locker room areas of the 2016 World Champions. The Sox fans may not have loved that, but it was non-negotiable! They also had a boat tour down the Chicago River on one of their days, and learned all about the unique architecture and developments of Chicago's beautiful downtown area. Last but not least, was a trip to the Chicago History Museum. Even though many of the students live in Chicago, it was amazing to see the number of them that had not experienced all that our great city has to offer!
High Tech Chicago
This minimester offered our students a chance to see a different aspect of Chicago, namely that of innovation and technology in various sectors. Students toured the NBC 5 News studio and learned about the technology involved in collecting, organizing and broadcasting the daily news segments. The 24 Ritamen also visited Loyola University to see undergraduate tech projects from students there and saw a robotics demonstration. They enjoyed the opportunity to meet and interact with college students, especially ones that are in fields they wish to someday pursue.
Earlier minimester outings in the school year occurred in Philadelphia/New Jersey, college visits to Boston, Europe, and a college football spring practice tour to the University of Illinois, Northwestern University, and Northern Illinois University. There was also a trip to Charleston, South Carolina for our baseball team on their annual spring trip where their minimester was held.
Local minimesters also included a holiday baking minimester, genealogy and family history, introduction to astrology, and several more also. In total, there were nearly 20 minimester options for our students to choose from. It all depended on their interest level, cost (if any) associated with the program, and their schedules with school, sports, work, etc. The courses concluded with an assignment (paper, quiz or test) to be submitted to the faculty and staff moderators.
We are already excited to launch year #2 of minimester and already have some new minimester ideas to make the experience even better!