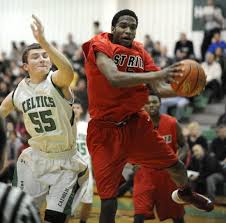 OK, so Vic Law never will lead the Big Ten in scoring. He's more of a Joakim Noah type, minus the "tornado" jumper and hair bun. The 6-foot-7 Law registered a double-double Tuesday night in St. Rita's 57-44 victory at St. Ignatius, finishing with 10 points and 10 rebounds. And if there was a category for altered shots, the Northwestern signee might have had a triple-double.
The quick-leaping Law was active defensively, though that was not reflected in the box score — one block, zero steals.
"He's a warrior," St. Rita coach Gary DeCesare said. "He plays hard every second."
On the flip side, Law made just 3 of 8 from the field — two dunks and a put-back. He missed his three jump shots, one an air ball.
On a team with big-time scorers in the Matthews brothers, Charles and Dominique, Law is a often third option.
Charles Matthews is one of the nation's top-rated juniors, a smooth 6-5 guard being courted by Kentucky, Kansas and Michigan State. Dominique, a 6-2 senior guard, reportedly holds offers from SMU, Milwaukee, Toledo and Chicago State.
"Great players make others around them better," Law said. "Not being one-dimensional helps the team. Other guys like to (shoot), so someone has to do the dirty work, the little things that help you win. I embrace that role."
NU coach Chris Collins loves what he's getting in Law, who averages 11.7 points and 11.3 rebounds and said he made straight A's in his first semester.
"He is a super-athletic, really well-rounded player with the ability to impact the game in lot of different ways," Collins said. "His DNA is not wired to be a 25-point-per-game scorer. But he's versatile, can defend four positions (point guard through power forward) and plays above the rim."
That he does. A third slam attempt Tuesday rattled in and out.
"It doesn't bother me not touching the ball," Law said, "because I know I can score 10 points off rebounds."
Law is the centerpiece of Collins' first recruiting class, which ranks 37th nationally in the 247sports.com composite ratings. Law is a consensus top-100 player, joining guards Bryant McIntosh, Scott Lindsey and Johnnie Vassar and 6-8 forward Gavin Skelly.
It's a group with length and athleticism, which should help Northwestern remain a defensive powerhouse. The Wildcats rank eighth nationally in defensive efficiency, according to KenPom.com, quite a contrast to their 324th-ranked offense.
Asked about contributing to St. Ignatius' 27.8 percent second-half shooting, Law responded: "Whatever it takes. If it's a double-double or scoring 30, whatever it takes to win."
St. Rita has won seven straight games to improve to 14-6.
Law's father, Victor, would like to see his son shoot a bit more but said: "He's not all that concerned with points. He says, 'Dad, as long as we are winning, I am happy.' "
One thing would make him happier: hitting more free throws. Law missed 4 of 8 Tuesday, criticizing his performance as Shaq-like.
"I didn't have the touch," said Law, a 78 percent shooter from the line. "Don't know what it was."
When Law isn't playing, practicing or studying, he is watching NU basketball. He's practically a superfan, having attended four games and having watched the others with his dad.
He said he gets an alert on his phone every time Northwestern scores. So there is a silver lining to choosing the Big Ten's lowest-scoring team.
"Northwestern is on the rise," Law said. "I could not have made a better decision."
By Teddy Greenstein, Chicago Tribune