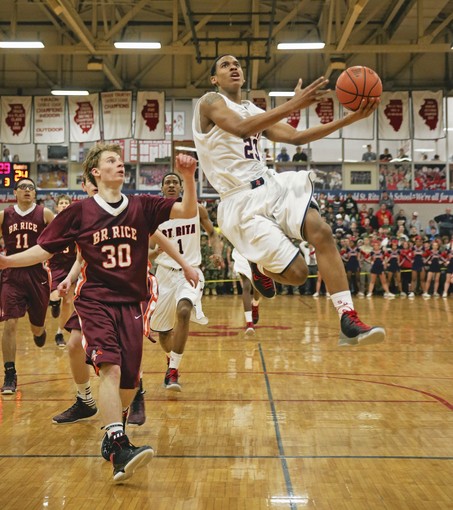 Dominique Matthews had to work the jitters out.
"This was our first playoff game, and I had to calm down," the St. Rita senior guard said. "I had some good looks early but I rushed my shot."
Matthews caught fire at the right time, scoring 17 of his game-high 19 points in the second half that sparked the host Mustangs to a 65-52 victory over emerging Public League program Kenwood in a Class 4A regional semifinal Tuesday night.
No. 20 St. Rita advances to meet DuSable, a surprise winner over Brother Rice, for the regional championship
Friday night.
Sophomore Charles Matthews added 16 points and five rebounds for the Mustangs (19-7). The Matthews brothers were necessary to upstage the Broncos' upset chances.
"They were a very good team, with very good and quick guards and they gave us a lot of problems," Dominique Matthews said.
For the complete story click here, Courtesy of Patrick Z. McGavin Chicago Sun-Times