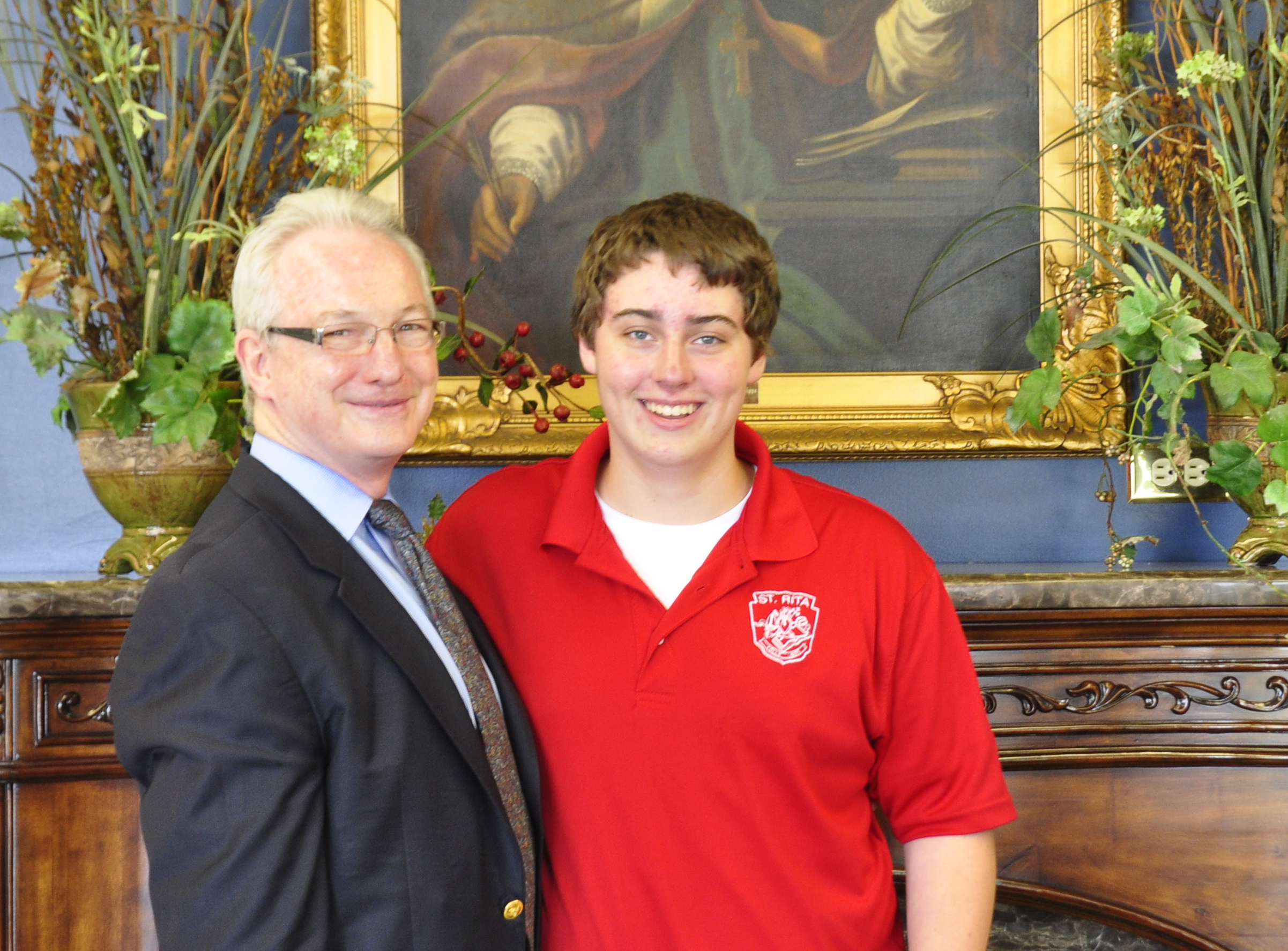 Dr. Jack Gardner'64 returns to campus to speak to students and faculty as the Alumni Guest Speaker after the all School mass on the Feast of St. Augustine.
Dr. Jack Gardner'64 returned to the Shrine Chapel to speak to the St. Rita community on the Feast of St. Augustine on August 28.  His speech focused on three life lessons that are applicable to all Ritamen: be tolerant, be humble, and be a Ritaman who can be counted on.
First, he recalled a baseball game versus Brother Rice, where in the dugout, "there were comments being made about the groups of girls passing by.  Then the comments turned to jeers and laughter."  As it turned out, one of the girls walking was the cousin of Dr. Gardner who had special needs.  When confronted about the comments, Gardner recalled that he "did not prontificate but said something to the effect that "it doesn't matter who it is.  If you don't know what to say, say nothing at all."
Secondly, he spoke about a classmate who was teased for wearing clunky shoes.  After inquiring about why he wore those shoes, Gardner learned the classmate worked from 11 PM-7 AM in the steel mills, while concurrently attending St. Rita in order to help support his family after his father left. The classmate was able to rely on lessons learned at St. Rita about hard work, determination, and the importance of family as he did supported his own family through a tough time. Lastly, he spoke about a classmate from the 1963 National Championship team who learned, while on the fields and courts at St. Rita, the strength and perseverance needed to cope with an illness to his young son.  The lessons, as well as a spiritual strength, helped him as he became a national advocate for the eye disease and worked with necessary doctors across the country.
Dr. Gardner's remarks closed with a reminder to all Ritamen to be grateful:  to parents who encouraged you to attend St. Rita, to the Augustinians, and to the faculty and staff.
Dr. Gardner and his wife, Paula, are the proud parents of two Ritamen:  Jack'13 and Andrew'15.  Jack is an Optometrist in private practice with offices throughout the southwest side and suburbs.  Jack is serving as the liason for the 1963 National Championship Reunion festivities and is active in the Band Boosters.