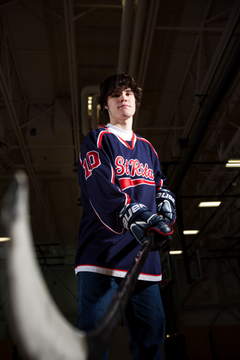 Sam Serieko dedicated a good amount of time and effort during hockey's offseason to improving his game. The St. Rita senior always was a skilled player. His shooting and accuracy, however, required a little fine-tuning.
The additional practice has paid off on the scoresheet, with Serieko leading the Mustangs in goals and points this season.
"Sam really worked hard to improve from last year," St. Rita coach Brian Coleman said. "He spent a lot of time working on his shot. His release is much quicker and he's more accurate with his shot. And he's a great kid."
Serieko, a Beverly resident, has 16 goals and nine assists for the Mustangs, who sit in fifth place in the Catholic League at 8-3-1.
Serieko's strength always has been his work with the puck and his ability to stickhandle, skate and pass with the best of them.
Those skills were developed and honed in his own back yard — literally. Since age 6, Serieko has had the luxury of a homemade ice rink in his back yard, complete with boards, two nets and lights for night games. Sam's father, Jack, is the architect of the rink, which remains a fixture on the property.
"My dad sets up a hose and lets the water run all night," Serieko said. "It's great. You walk out of your basement door and can skate any time you want. I still go out there and practice my shot and stickhandling every day."
Serieko attributes much of his stickhandling prowess to the nuances his backyard rink provides.
"The surface isn't as good as an indoor rink," he said. "The ice isn't as smooth; sometimes it's more bumpy and choppy. But it makes me concentrate more on my stickhandling."